Exhibits at the YellowAirplane Museum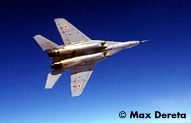 Take a ride in a real
Russian MiG-29

.
0964012863Guide To Over 900 Aircraft Museums, USA & Canada
Webmasters Quick Story about
Skinned Shins
Click Here's a little story about life on an aircraft carrier, the USS Kitty Hawk. In 1977 and 1978 I was stationed aboard the Kitty Hawk which was covered with aircraft inside and out. One day I was talking to a group of my friends and said that I hope that they don't think I'm stupid but... I pulled up my pants legs and showed them my bloody shins. "Look at this," I said. They all laughed and every one of them pulled up their pants legs and showed me their bloody shins. Everyone of us received injuries from bumping our legs into the many chains that hold an aircraft to the deck of the ship. These weren't just a few scratches, they were bad bruises with scabs and some of them with fresh blood running down their legs. We all immediately started laughing. Is this the way it is for guys today? Don't be afraid to send your story.
Patterson Aircraft Company
and the Department of Fish and Game
About 1981 I used to work as an Avionics Technician for Patterson Aircraft Company at the Executive Airport in Sacramento, CA. Several years before, while I was in the Navy, I had a mountain climbing accident. When I worked for Patterson Aircraft I had a lot of internal problems from that accident. One day the pilot from the Department of Fish and Game, Bob, came to me and said he had a problem with the localizer needle in his flight director. I could never duplicate the problem while on the ground so I said that we need to flight test the airplane to find the problem. The plane was a converted Beech 18 now with two Pratt turbo-prop engines and a nose gear. I've been wanting to fly in this plane for a long time but It cost a lot to fly one of these gas guzzlers and the pilot has been avoiding it. Well here was my chance. We flew to the San Jose area then back to Sacramento. It was a beautiful day and the scenery was great. Bob kept remarking about the newly covered seats. He was so proud of them because they were covered with a real nice cloth. Well, the localizer problem started to show up and after turning several radios on and off and selecting either Nav 1 or Nav 2 and setting the autopilot to different modes, I had a good idea which area the problem was in so I said that it was time to go home. Just after we landed I noticed that it was time for lunch. I told Bob that I would go eat lunch, then come back in the afternoon to finish the job. As I walked from his hangar to ours, which was about 50 feet, I felt something wet on my pants. I put my hand back there and it was runny and brown. I don't need to get any more descriptive than that, but it was a mess. The day before, the doctor gave me some medicine to clean me out for some test and he didn't tell me what the effects were going to be. I came about two minutes from making a mess in the co-pilots seat of a newly upholstered Beech 18 and about three minutes from being shot by the pilot if I did. Can you imagine what a mess this would make. Well, I guess you can say, "All's well that ends well."
It was about 1987 when my nephew came to visit me in Sacramento. He was in the Army Reserve and was traveling via MAC Airlines (Military Airlift Command). For his return trip to Chicago he needed to catch an airplane at Travis Air force Base. I was a civilian working for the Department of the Army so I had a military sticker on my truck which got me into a lot of places regular civilians couldn't go. One thing about traveling on MAC Airlines is that you have to wait, and wait, and wait some more. While we were waiting, I can't stand just sitting around, we decided to take a tour of the base. I didn't know that there was a museum there and when I found out I said I wanted to go. We walked around and looked at all of the nice aircraft until we came to a T39 which had the air stair door open. It was great! We sat in the pilots seat and then sat back in the back of the airplane. My nephew liked to talk about business and success so we pretended that this was our own executive jet and were in the back taking a trip across country. Suddenly the door closed and was locked. I jumped up and started beating on the inside of the door and yelled, "Let Us OUT." The door opened and the guys let us out. It turned out that we weren't supposed to be inside and we almost got locked in and missed my nephews flight. I'm not sure if it happens to other people, but, these kinds of things always seem to happen to me. I guess you can say that I really like to get into things.

Go to the Lifetime Story Timeline
This one should brighten up your day.

Webmasters Quick Story about


Veterans, If you believe
in your country, Read This