Airplane Calendars * Airplane Art
* Railroad Calendars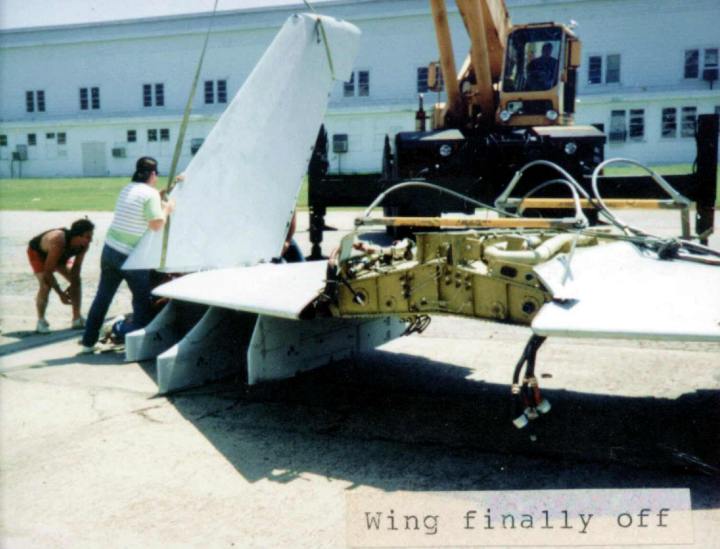 Look at this wing spar, it's a huge steel "I" Beam
A-7 Corsair II books * A-7 Corsair II movies * A-7 Corsair II models
Take a close look at the large spar in this A-7 Corsair II wing. These wings are more than just airfoils used to hold the airplane in the air, they hold fuel tanks, electrical systems, ten tons of bombs, hydraulic actuators, control surfaces, lights and all the time have to maintain their strength in excess of 6 G's while doing high speed maneuvers with bombs and bullets being shot at them. At six G's a ten ton bomb load becomes sixty tons. A semi truck will carry a max load of twenty tons and if it were required to have sixty tons placed on it, it would break the trucks trailer, crush its wheels and crack the road underneath it. If you don't believe me, just ask a trucker to take sixty tons of rolled steel someplace for you and see what he says.
When I was in VA-125 back in the seventies, every national or international bombing derby that an A-7 entered, it took first place. This is a tremendous weapon delivery system and even though it is no longer in service in the United States, country's like Turkey are buying them up like hot cakes because they are still a tremendous weapon system.
Books Index Page
Movie Index Page

Prairie Aviation Museum Bloomington, IL.
Take a ride in a real Russian military MiG 29 jet fighter
A-7 Corsair II Model Airplanes Here.
YellowAirplane Virtual Online Museum