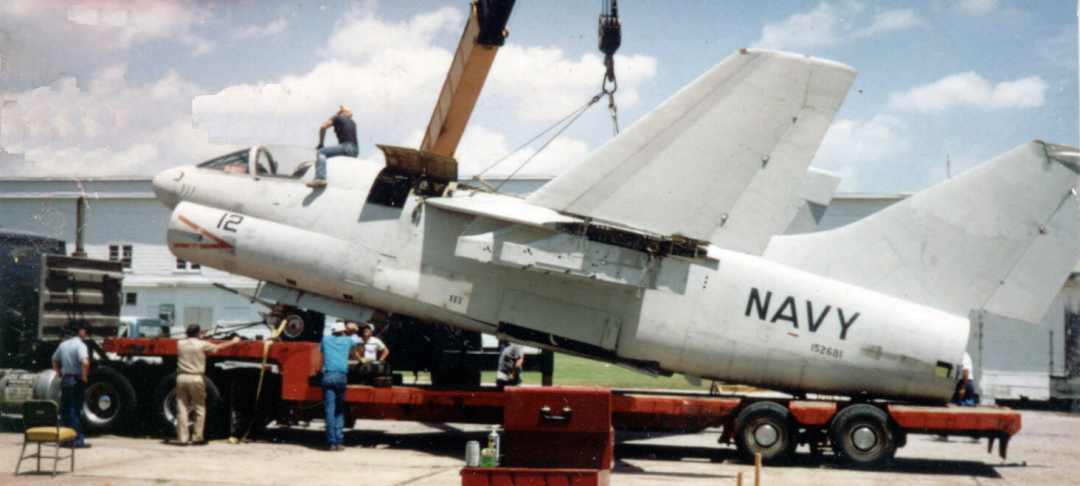 A-7 Corsair II being taken off of the truck in Bloomington, Illinois.
A-7 Corsair II books * A-7 Corsair II movies * A-7 Corsair II models
When you look at an airplane in a museum you think that's really nice and that's about it. but there's a lot of history involved in not just the aircraft's service, but the transportation to the museum. The first part of bringing the airplane to the museum starts with the museum staff deciding on and locating an airplane that is available for display. Next a group of volunteers are needed to retrieve the airplane, in this case it was retrieval and disassembly in preparation of placing the aircraft on trucks where the volunteers were needed. The picture above shows the airplane being loaded onto a trailer.
I served with VA12 out of NAS Cecil Field in Florida. I was a plane captain and chose to stay one for my 4 year hitch (76-80). I think your site is great and I would like to introduce you to mine as I would love to link to your site and possibly get a link back. Your description of the A7 was dead on and it's the reason why I love this plane. If I don't hear back from you I understand and will still appreciate your site as one of the classier of the few out there.
Thanks
Joseph D'Albert
President
Industrial Video Technologies, Inc.
joe@rentgear.com
www.rentgear.com
Books Index Page
Movie Index Page
Prairie Aviation Museum Bloomington, IL.
Take a ride in a real Russian military MiG 29 jet fighter
A-7 Corsair II Model Airplanes Here.
YellowAirplane Virtual Online Museum