Photos of the World War 2 Japanese Caves found on Guam

.

Travel Photos by Dan Collier.

Travelers to Guam and other Pacific Islands should take a look at the history of the Japanese Caves. After World War 2 there were many Japanese Soldiers who hid out in these caves, some are to believed to be hiding out even today. These caves were built before the U.S. entered the war and during the war also and still exist as a reminder to all of us of the history of world from both sides of the war.

At the Yellow Airplane Online Museum
Japanese Caves on the island of Guam are a reminder of historical events in World War 2
Travel Photos by Dan Collier
This is one of the Japanese tunnels on the island. Notice the tall narrow shape. This is very similar to the tunnels found during the Viet Nam War. This tunnel appears to be partially filled in, but it would be very interesting to explore. These tunnels exist on many islands including Ie Shima , just north west of Okinawa. Japan made many cave hideouts throughout the Pacific during World War 2.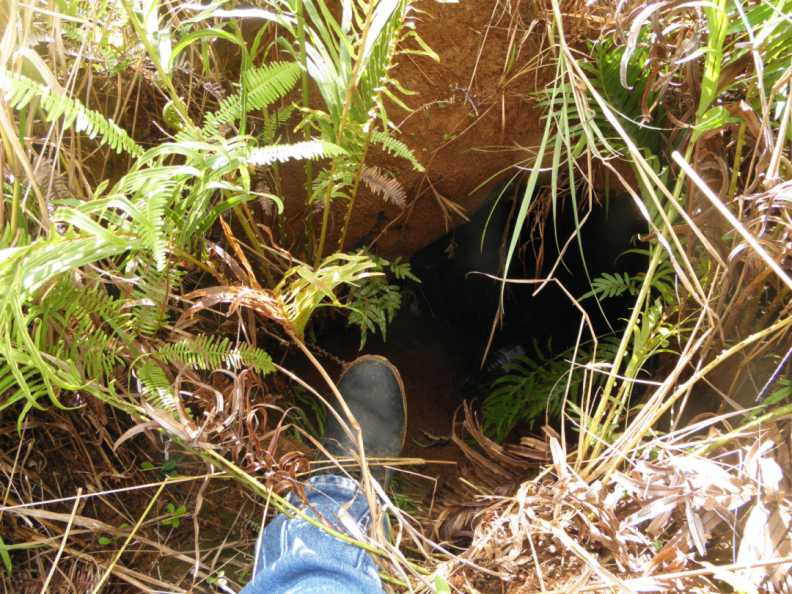 The Entrance to this cave is almost invisible, yet inside it can be a huge maze of tunnels.
Chronology of Japanese Hideouts after WW2
Japanese Soldiers held out in these caves on Guam and all over the islands
of the Pacific, some even to this day.
One of these Japanese men was Shoichi Yokoi who lived in these caves
for 28 years until Janurary 24, 1972. He said that the only thing that gave him the strength
to survive was the faith in himself and that he was a Japanese Soldier.
Read more about Mr. Shoichi Yokoi here.
Read about other Japanese Soldier hideouts here.

Photos by Dan Collier
Many of Guam's Japanese caves were hand-dug by native slave labor, and are plentiful on Guam.. The Japanese simply LOVED caves! Let's take a look in my picture files and see if I can find any more cave photos... Natural caves were used as well, but they are not symmetrical, like the hand-dug ones were.. A continuous running arc along the top of the cave, and relatively smooth side walls would indicate a hand-dug cave, whereas a natural one would not be so uniform internally. . --Dan
Notice that this Japanese Tunnel has a heart shape.
Japanese WW2 Power Station
If anyone knows more about this Japanese WW2 mini submarine or has any more pictures, write me a letter at the bottom of this page.
See the 34th Fighter Squadron Exhibit at the Yellow Airplane Exhibit Hall.
The 34th Fighter Squadron fly's a WW2 P-47 Thunderbolt
Click on photo to see exhibit
Avitop.com Aviation banner exchange - Join now!
/WebSite/pics/Viewers_Pages/Dan_Collier_8-Japanese_Caves_on_Island_Guam.html|26623"