Restoration of the World War II Japanese Submarine on Guam

.

Travel Photo by Dan Collier.

This World War II Japanese Mini Submarine is in the process of being restored on the island of Guam for their museum. These photos of this submarine were taken by Dan Collier from his last visit to Guam. The sub was on display there, as you can see on the picture to the left, and was starting to have problems caused by excessive rust to the point that it was going to fall in on itself. Dan was kind enough to show us all of the pictures from before, during and after the submarines restoration.

At the Yellow Airplane Online Museum
Photos of the Restoration Process of the Japanese Two Man Mini Submarine on Guam
Travel Photo by Dan Collier
Control Tower being Removed on Japanese Mini Sub
Control Tower of Mini Sub being rebuilt
Side View of Japanese WWII Mini Sub Torpedo Tubes
Exterior View of Torpedo Tubes on Japanese WW2 Mini Sub on Guam
Close-up of Torpedo Tubes in Japanese Mini Submarine
Japanese Mini Sub Disassembled and being Rebuilt
Interior View of disassembled Mini Sub
Interior view of Japanese Mini Sub
Torpedo Tubes from the inside of the sub
Propellers on WW2 Japanese Submarine on Guam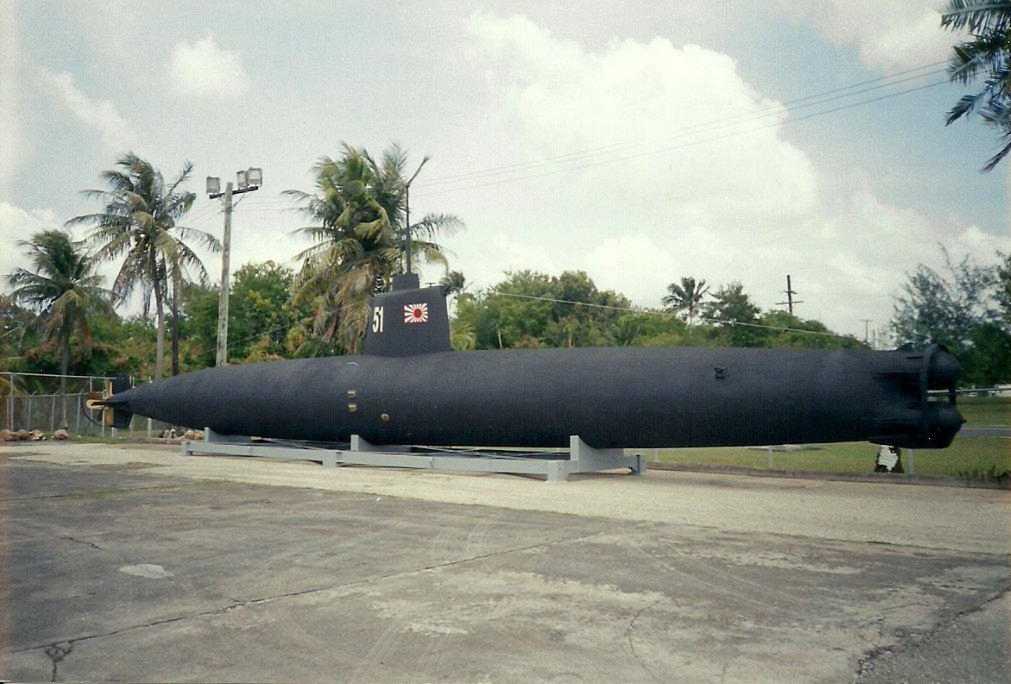 Hello, Jeff, No, I didn't forget my promise to send you a photo of the

Guam

Japanese mini-sub and how it looked immediately after the restoration.. So here it is!
As mentioned, they had to restore in because it got to the point that it was starting to collapse under its own weight at those mounting pylons that it rests on. Guam's climate is quite humid, as you can imagine, and actually the sub held up pretty good for having been in the outdoors for all these years. This sub was rebuilt around 2002, and that is when this photo was taken.
John, who I mentioned had a lot to do with the restoration of this sub, but he didn't own the metal yard where it was rebuilt. Mr. Gerber was heavily into war-time artifacts and has built an impressive

military museum

just before his death from a heart attack.. Looking forward to seeing it! He was always on the lookout for rusted wartime memorabilia, and had the reputation of cleaning them up spotless and to museum quality.. I'm going back to Guam in October, and will surely get some photos of his museum displays!
Talk later, Dan Collier
If anyone knows more about this Japanese WW2 mini submarine or has any more pictures, write me a letter at the bottom of this page.
Mini Sub Restoration Page 3
See the 34th Fighter Squadron Exhibit at the Yellow Airplane Exhibit Hall.
The 34th Fighter Squadron fly's a WW2 P-47 Thunderbolt
Click on photo to see exhibit
Travel to Okinawa
Avitop.com Aviation banner exchange - Join now!
/WebSite/pics/Viewers_Pages/Dan_Collier_5_Japanese_Mini_Submarine_Restoration.html|53179"