One day my friend, Paul, and I went riding. He had the full dress Evolution Harley and I had a Kawasaki ZN-700. The ZN-700 was a four cylinder and very smooth and very fast. So we traded bikes and kept riding. I was expecting his 800 pound vibrating monster to be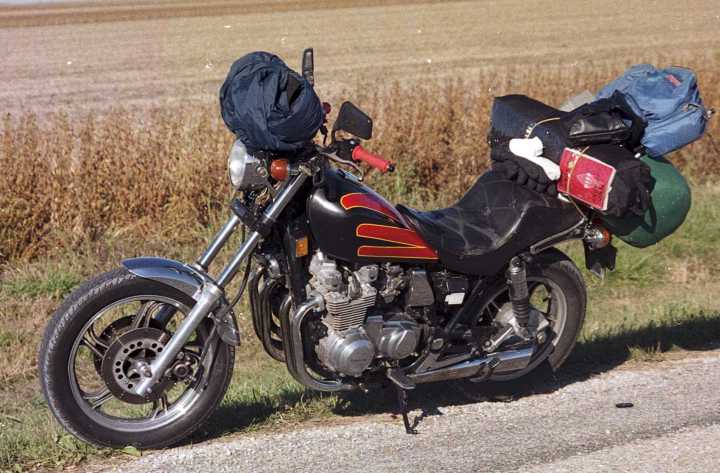 exactly that. But the bike handled like it was a 500cc bike and was very easy to drive. And then was the other big surprise, his bike had less engine vibration to my body than my four cylinder Kawasaki. Also, his bike didn't like 55 mph. It used only a tiny bit of throttle, and I was at 55 and it didn't like that, the bike wanted to fly. My Kawasaki was much faster, but it sure wasn't made to cruise like the Harley. I've been very surprised ever since.
Years ago I drove a 1953 Hydraglide. The bike didn't have a seat and didn't run fully on one cylinder. It vibrated like mad and the hard tail was terrible on my soft tail. I didn't realize that the left hand grip was an advance and I started turning it while I was just messing around. I was running at about 80 mph when I was playing with this advance, messing around and there was a big boom. The real nice air cleaner cover shot off and rolled down the road. I was really nicely chromed and now it was very nicely scratched. I was only 16 then so I never realized anything and didn't have any sense that I screwed up.
But the new Harleys are so smooth that I can't believe it, they just vibrate at idle and I think that looks cool. But anyway, I'm an old rice burner rider with just under the 800,000 mile mark. One of my dreams in life was to break a million miles. Now I'm disabled and I end up riding about a thousand miles a year and that's about it. But, I'm happy and every mile was the best mile of my life.
Jeff's CB750 Mineral King California Strange Story
<!141964315017893909571419643150">Over the Handlebars: A Selection of Motorcycle Storiese/ir1419643150
16" Motorcycle Tires
17" Motorcycle Tires
18" Motorcycle Tires
19" Motorcycle Tires
21" Motorcycle Tires
MX Motorcycle Tires & Accessories
Honda Motorcycle Shop - Repair - Service Manuals
Honda Motorcycle Jackets
Honda Motorcycles for Sale
Honda Motorcycle Shop - Repair - Service Manuals
What's this Girl Doing in Here? I'm just wishing.
3A%2F%2F2Fs%3Fie%3DUTF8%26rs%3D%26ref%255F%3Dsr%255Fnr%255Fseeall%255F4%26keywords%3Dmotorcycle%2520calendar%26qid%3D1241162603%26rh%3Di%253Aaps%252Ck%253Amotorcycle%2520calendar%252Ci%253Astripbooks1789390957">Motorcycle Calendars, Beautiful Girls, Fast Bikesgerman_fighters.htm
<!141964315017893909571419643150">Over the Handlebars: A Selection of Motorcycle Storiese/ir1419643150