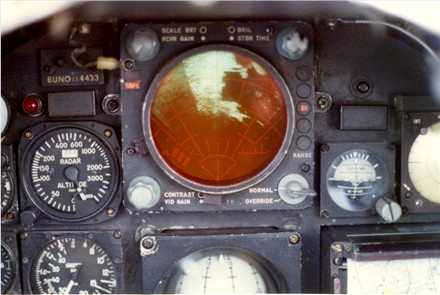 Click on Photo for larger view
A-7 Corsair II books * A-7 Corsair II movies * A-7 Corsair II models
This is a good photo of the APQ-116 fire control radar in the A-7 Corsair. The APQ-116 had many useful modes. If I can remember correctly, they were, Weather,
Fire Control, Bomb Direct, Ground Map, Terrain Following and Terrain Avoidance and Walleye Modes. By modern standards, this system was antique. It has a black and white display and a limited range and resolution. The newer radars found on the F-14 Tomcat, the AUG-9, is much more sophisticated using a flat plate antenna and capability of tracking as many as six targets simultaneously.
For those that don't know, RADAR stands for Radio Detection and Ranging.
Books Index Page
Movie Index Page

Yellow Airplane Home Base
Gordon Doody
VA-125, VA-215