With eight of the worlds ten highest peak, Nepal is loaded with spectacular mountain vistas. The Everest trek is justifiably famous not only for its proximity to the world's highest mountain but also for its friendly Sherpa people. Picturesque villages, great variety of cultures and traditions, Colorful festivals and monasteries. The Sagarmatha National park is rich with flora and fauna. But the existence of the Yeti remains a mystery.
A large number of mountaineers and trekkers are drawn to the Everest region that leads through the Sagarmatha National Park . To be seen on the way are astounding views of some parts of the Himalayan. The path also leads to Dudh koshi valley and forests of blooming rhododendron, blue pine and fir; Highlights of this trek include Namche-bazaar, the Tengboche monastery and Kalapatthar en-route to the Everest Base Camp. This area is abundant with high-alpine wildlife, that includes the Himalayan tar, muskdeer, pikka, of mouse hare and rare birds like snow crow, snow pigeon and pheasant. Access to the Everest region is either by air from Kathmandu to Lukla or by bus to Jiri, private rides, which would reduce traveling time can be arranged at some extra expenditure.
(The main goal of the trekkers to Everest region is to observe the world highest mountain along with the worlds other three highest mountains.)
Contact Friendship Trek, or look at their other Adventure Travel Packages.
Sherpa Village Namche Bazaar Trek
This is one of the most popular treks in the world, through the land of the Sherpa village, with views of the world's great 8,000-meter peaks. After a 35 minutes scenic flight to Lukla, the trail follows the course of the Dudh Koshi, The River of Milk. Gradually climbing through forest of rhododendron and magnolia, pine forest, Sherpa villages and Buiddhist Monasteries. Namche Bazaar is a village in the Khumbu region of Nepal . Namche is located at 3,440 meters; it is a gateway to the high Himalayas . Namche Bazaar is the administrative center for the Khumbu region. The village has many hotels and shops where one can make their stay more enjoyable and find any thing required for trekking. In the rest day in Namche Bazaar one can make a excursion to the small air steep to syangboche and can visit a Everest view hotel from where you can get a close up view of the world's greatest mountains, Everest, Lhotse, Ama Dablam, Nuptse, Thamserku, Tawache and m any other unnamed mountains and peaks. This trek includes sight seeing in Kathmandu with a whole day of sight seeing in the Kathmandu valley. Some views include the Hindu Temple Complex at Pashupatinath and the largest Buddhist Stupa at Boudhanath. You will also get to view the Monkey Temple, the Swyambhunath a 2000 year old temple and also visit Patan, the city of fine arts.
The trek starts with a flight from Kathmandu to Lukia and a trek to Phakding. The trek from Phakding to Namche starts with a slight climb to Jhorsalle passing a waterfall. All of this day you will pass through villages with magnificent forest filled with rhododendron, magnolia trees and giant fur trees. On this part of the trek, if the weather permits, you will see tremendous views of the mountains, Kusum Kanggru 6369m, 20895ft. Thamserku 6608m 21679ft, Mt. Everest 8848m 29028ft., and Nuplse 7879m 25849ft.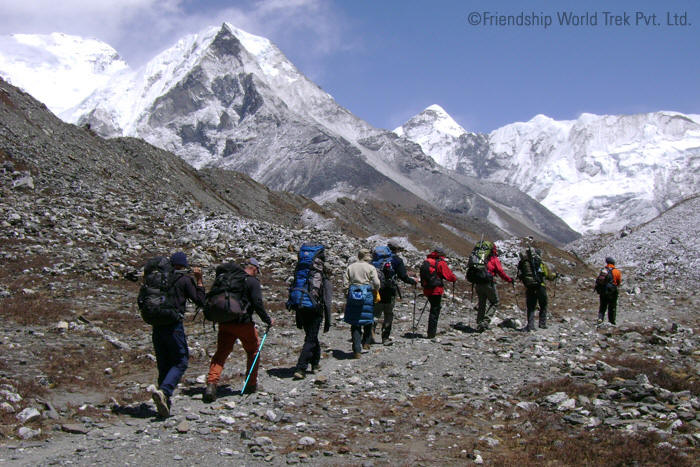 At this time you must spend a day acclimating to the altitude before proceeding. This day you can take a short trek to Thame, Khundle or Khumjung or just kick back and relax for this day.
So far you are six days into your climb trekking from Namche at 3867 meters 12687ft. to Tengoboche at 3870m 12696ft. On this days trek you will see the inspiring panorama of the Himalayan giant mountains as well as visiting the Bhuddist Monastry at Tengboche, the largest monastery in the Khumbu region.
Now seven days into your trek, you will walk down to the river and then start hiking to the Khumjung village.
On the eighth day of trekking, you will hike from Khumjung Village to Phakding and then down to Namce with a colorful center of the Sherpa community, and then continue down to Phakding.
On day nine you will trek from Phakding to Lukla for the last day of the trek. Here you will enjoy a dinner with your treking crew. Then next day you will fly from Lukla to Kathmandu to your hotel. Next you will have a free day in Kathmandu with an evening culture show with the Nepali dinner.

If you want to do something fantastic in your life, this is fantastic. As the webmaster at YellowAirplane.com, I've traveled all over the world and climbed many mountains. These were the very best days in my life. Climbing a mountain and trekking like the above described trek is absolutely fantastic. On this trekking tour, you will visit many foreign villages and see how people live on the other side of the world and in the highest part of the world. When you are trekking, you breathe fresh air and pull it deeply into your lungs feeding your body with pure, clean, energy. You body starts to function better than it ever has and your brain clears out leaving all of your troubles behind. These treks are very inexpensive and have many benefits far above the trips on a cruise ship or flight to a huge city. This trek will remain with you for the rest of your life and be a major memory in your mind. I'm excited thinking about this right now, it's just fantastic. C. Jeff Dyrek. Webmaster.
Introduction:
Nepal - a country of nature and diversity. In terms of natural, cultural, ethnic, religious, biological diversity, Nepal is a master piece in the entire globe. The majestic Himalayan ranges in the north claim eight out of the Fourteen highest peaks in the world, including Mount Everest (8848 m) the top of the world. The alpine hills and valleys, with snow fed rivers, the lakes in the central region and the dense tropical forest in the south with its rich variety of wildlife, present a fascinating combination of nature and adventure. Approximately 23.5 millions people made of different races and ethic groups living in different regions, with diverse culture, religion, language and dialects within an area of 147181 sq Km.
Friendship World Trek & Expeditions Pvt. Ltd. Is established to give best services to the people who comes to visit the Nepal and Many other Purposes.. It is one of leading tours, operators and trekking and Travel agents in Nepal. Friendship World Trek is operating from the very heart of Kathmandu, the tourists' hotspot - Thamel. Friendship World Trek staff team consists of trained, experienced and down-to-earth professionals. Our qualified bilingual and multilingual guides speak fluent English, French, German, Japanese and Chinese who will help you see, feel and experience Nepal.
Friendship World Trek & Expeditions, a leading tour operators & travel consultants has been established to give best services to the people who come to visit the Nepal and Many other Purposes. It is providing all the facilities needed for hotel reservation, package tours, culture tours, trekking arrangements, white water rafting, car rental and worldwide ticketing. Company has experienced guides having a good command in English, French, German, Japanese, Chinese, Spanish, Italian and others languages. The company's service will make valued guests enjoy a memorable stay in Nepal.
1. Concept
Nepal provides immense tourism potential from tourists around the world with a proper marketing strategy and government policy support to enhance the existing support systems and infrastructure without massive investments. In addition, tourism inflow from around the world to Nepal can also be encouraged substantially by aggressive marketing and developing support systems.
2. Our Mission Statement
Friendship World Trek & Expeditions is committed to providing an integrated travel experience or lifestyle to customers with innovative and creative products through state of the art technology and a higher level of reliable customer service from a highly motivated & delegated team of professional & knowledgeable staff.
3. Group Tour
This division offers a wide selection of travel packages to holiday destinations such as Tibet, Nepal, Bhutan, India and many more. It has expanded its business into organizing chartered flights and special departures to new destinations. For example: Trekking, Climbing, Climbing Courses, Rafting & Kayaking, & Many More etc.....
4. Incentive Tour
With the largest team of professional incentive sales staff, our incentive programs provide innovative versatility for companies ranging from small organizations to big corporations.
5. Conventions
This agency manages overseas events or conventions and provides other travel services for all delegates.
6. Ticketing
Provides ticketing as well as a full range of travel-related services for both Corporate and Individual travel.
7. Inbound & Regional Marketing
Handle FIT/GIT, special interest, group meeting, transfers and also facilitates regional travel.
8. Wholesale
This agency focuses on providing tour planning expertise and travel services to other travel agents.
Global Warming and Global Climate Change