Y-I-BET
On the Youth of America
Youth Innovative Business Environment Training
Experiments with Activities
Having Foreign College kids visit local grade schools and family get togethers. A way to teach kids about people from other lands.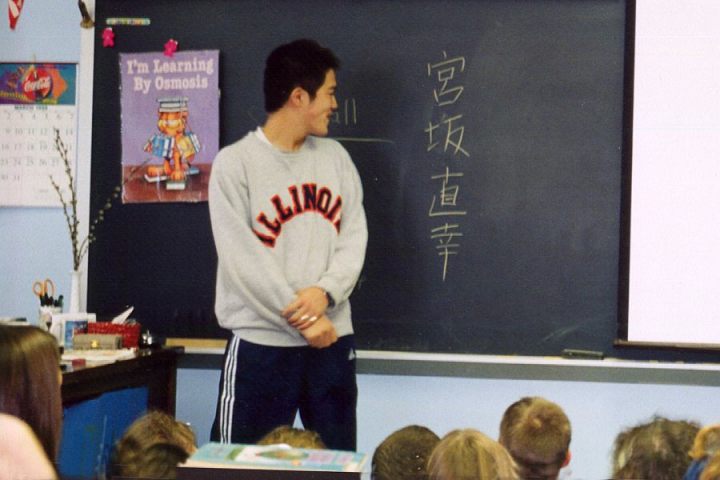 Click Here, Nao Miyasaka writes Japanese words on the blackboard at the Bushnell, Elementary School.
Nao Miyasaka is a student at Western Illinois University (WIU) working on a degree in computer science. In March 1998 we went with Nao to Bushnell Prairie City Elementary School to talk about his home town in Nagano where the 1998 Olympics were being held. About a month later we repeated this talk at the Colchester Elementary school, both located in Illinois.
Click on the right arrow below to continue with this exhibit section.
Yellow Airplane Gives You the Best Source of Airplane Models, Airplane Books, Airplane Movies, Aviation Art, Aircraft Calendars, Airplane Tools, Exhibits and MORE!
Click Here for Jaguar Sports Cars for Sale
Click Here to go to the YellowAirplane Online Museum
or Bible Gateway, Read Almost any Bible, In Any Language, For Free, Great Search.

Look at these exhibits and tell me what these men really fought for.
34th Fighter Squadron Willow Run B-24 Liberator Production Exhibit
Read the Webmasters Story, "Why God Sent Me to the North Pole." You will Be Surprised.
/Y-I-Bet/YIBET_exp_Schools_1.html|53094"
Copyright Dates: